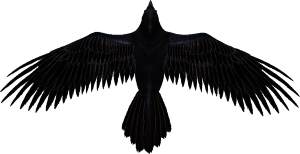 One of the cool features of the Thunderstruck 2 Slot is the Wild Raven feature. And did you know they have names?
The next time someone asks you: what are Odin's Ravens called? You can say: "Huginn and Muninn" (we're serious! Google it).
In the Thunderstruck 2 Slot Game (play for free here), the ravens appear in the Odin bonus game (20 free spins) which you can trigger after activating the Great Hall of Spins bonus game. When you get a win during the free spins, the Wild Raven bonus feature sets off. One or two of Odin's ravens will fly into the reels and smash into random symbols. This transforms the symbols into multiplier symbols. It's very cool to watch!
These symbols then substitute for other symbols to complete winning combos , and multiply the payout by either a 2x or a 3x multiplier.
But what's the deal with Ravens in Norse mythology?
Well, across the northern hemisphere, and throughout history, the Raven has been a powerful symbol in mythology.
Ravens are black, of course, and have long been long thought of as birds of ill omen and death.
Not so in the Thunderstruck2 slot!
Compare their lucky nature in the game to Sweden, where ravens are known as the ghosts of murdered people (spooky), and in Germany as the souls of the damned. In Denmark, there's an ancient myth that Ravens that ate a king's heart gained human intelligence, and had superhuman powers.
In Norse mythology, Huginn and Muninn are 2 ravens that fly worldwide and act as spies to the god Odin. Raven flags were flown at the head of armies of King Canute the Great of England, Norway and Denmark, and in Britain, ravens were a powerful symbol to the Celts.
Huggin and Muninn
Huginn and Muninn are mentioned in the Poetic Edda, written in the 13th century from earlier source such as: the Prose Edda and Heimskringla, written in the 13th century by Snorri Sturluson.
The names of the ravens are sometimes written as Hugin and Munin in English.
The god Odin often worries that they may not return from their daily flights. Odin is sometimes know as the "Raven-God" due to his pet ravens Huginn and Muninn. The two ravens often perch on Odin's shoulders, and it is said that Odin gave Huginn and Muninn the power of speech, although not until they had proved their worthiness.