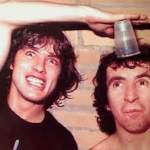 We couldn't really set up a site about Thunderstuck without at least covering AC/DC's classic head bangin' classic, could we?
"Thunderstruck" is one of AC/DC's best known tracks- it is the song that kicks off the 1990 album The Razors Edge.
It hit the no. 5 spot on the U.S.Billboard Hot Mainstream Rock Tracks.
Thunderstruck is one of only a handful of songs that the Aussie band have released since their smash hit album Back in Black, that they regularly play live.
Lead guitarist Angus Young's was hit mid-flight by lightning- this is the inspiration behind the track apparently. In any case, it sits pretty well with the name of the band, AC/DC meaning electrical current.
The now famous video was shot at Brixton Academy in London in the summer of 1990. Check it out below- it's a classic! How does Angus Young pull this off? Well, He he stuck with his trusty Gibson SG guitar and just went for it.
Thunderstruck : The Video
Lyrics to "Thunderstruck"
Thunder, thunder, thunder, thunder
I was caught
In the middle of a railroad track
I looked round
And I knew there was no turning back
My mind raced
And I thought what could I do
And I knew
There was no help, no help from you
Sound of the drums
Beating in my heart
The thunder of guns
Tore me apart
You've been
Thunderstruck
Rode down the highway
Broke the limit, we hit the town
Went through to Texas, yeah Texas, and we had some fun
We met some girls
Some dancers who gave a good time
Broke all the rules
Played all the fools
Yeah yeah they, they, they blew our minds
And I was shaking at the knees
Could I come again please
Yeah them ladies were too kind
You've been
Thunderstruck
I was shaking at the knees
Could I come again please
Thunderstruck, Thunderstruck, Thunderstruck, Thunderstruck
It's alright, we're doin' fine
It's alright, we're doin' fine, fine, fine
Thunderstruck, yeah, yeah, yeah
Thunderstruck, Thunderstruck
Thunderstruck, baby, baby
Thunderstruck, you've been Thunderstruck
Thunderstruck, Thunderstruck
You've been Thunderstruck
The song is famous for its main riff at the beginning of the track. Angus Young plays it by picking every fretted note and pulling off the open ones (despite what you see on the in "Thunderstruck" music video).